The President of the Commission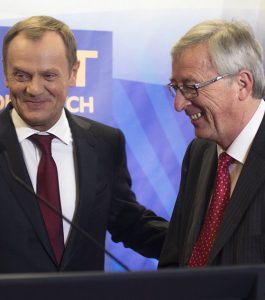 The President of the European Commission is a very well-known political figure and he appears very often in the media, so you probably know him rather well. His visibility  can be explained by the roles and the powers given to him by the Treaties. The Amsterdam Treaty particularly strengthened his role in giving direction to the College of Commissioners: 'The Commission shall work under the political guidance of its President' (Article 217).
Who is the current President of the Commission? Do you remember the name of the President of the European Council?
As you already know, the President of the Commission defines the internal organisation of the College and assigns responsibilities to Commissioners. He also represents the Commission at the meetings of the European Council and of the Group of seven leading industrialised countries and Russia (G8), as well as at the major debates of the European Parliament and the Council of Ministers. The Lisbon Treaty gives him the power to ask a Commissioner to resign without having to seek the College's approval. As stated on his official website: 'So, although the work of the Commission is based on the principle of collective responsibility, the President is much more than a first among equals'.
Note that the Treaty of Lisbon introduced the direct link between the results of the elections to the European Parliament and the choice of candidate for the President of the Commission. Do you think this has increased the significance of the European elections?
Calendar
October 2023
M
T
W
T
F
S
S
1
2
3
4
5
6
7
8
9
10
11
12
13
14
15
16
17
18
19
20
21
22
23
24
25
26
27
28
29
30
31