As noted in previous sections, the European Union is often accused of suffering from a democratic deficit: that it is not democratic and the institutional setting is far too complex to be understood by its citizens. Although the Treaties have been adjusted to respond to the legitimacy and accountability related problems over the years – for example, by reinforcing the powers of the Parliament and giving it more intergovernmental control over the European Commission, or the changes introduced by the Lisbon Treaty such as more scope for co-decision procedure – there is still a very low turnout at the elections to the European Parliament.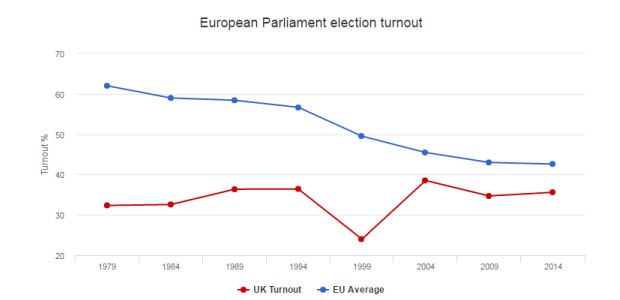 Examine a selection of the
Eurobarometer polls
over the recent years (i.e. 1990-2015). Look at the attitudes to the EP compared to national governments and parliaments over the years in the graph below. How have they changed, if at all?
According to Julie Smith's (2004) proposal, the way to reform the EU and to enhance citizens' interest in elections is to introduce European direct or indirect elections of the Commission President or the whole of the College of Commissioners.