The 'Treaties' of Rome (1957)
In common parlance, when people speak about the Treaty of Rome they are nearly always referring to the treaty that established the European Economic Community (EEC). There were, however, two treaties signed at Rome in March 1957: the Treaty establishing the European Economic Community (EEC) and the Treaty establishing the European Atomic Energy Community (EURATOM).
The EEC treaty
The EEC treaty was arguably the more important of the two in terms of European integration and it established many of the structures of the EU that we recognise today.
Click here to read about the EEC treaty.
Why does the text say that the Treaties of Rome came about?
What are highlighted as the two objectives of the EEC treaty?
What provisions did the EEC treaty establish?
Politically speaking, what institutions did the treaty establish?
Key facts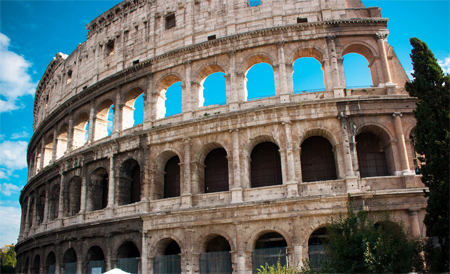 As you have seen, the EEC treaty was important for two major reasons. Firstly, the EEC treaty established a common market and a customs union across the member states to boost trade. As you will have seen, the common market was (and still is) based on the four 'freedoms':  the free movement of goods, capital, services and labour. These freedoms are still the defining features of the contemporary common market (now a 'single market' – see later in the module) and the Commission and Courts are to this day tasked with upholding them.
Secondly, the EEC treaty also created the provision for common policies allowing EEC member states to cooperate in certain areas when they chose to do so.
Thirdly and most obviously, the EEC treaty created many of the key European institutions (module 1) that we have studied on this course. The 'Treaty of Rome' established the European Commission, the European Parliament and the Council of Ministers as well as the Courts. It is important to remember, however, that none (except the Council) were as powerful then as they are today.
EURATOM
You may like to look at further information on the Euratom Treaty
Notice the tasks and the institutional structure defined by the Euratom Treaty.
Calendar
December 2023
M
T
W
T
F
S
S
1
2
3
4
5
6
7
8
9
10
11
12
13
14
15
16
17
18
19
20
21
22
23
24
25
26
27
28
29
30
31